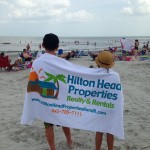 Ready for some family fun on our beach?  Hilton Head Properties R and R has adopted four Sea Turtle nest on Hilton Head Island.  Find one(or all) of our nests and we will register you to win a big comfy beach towel. One beach towel drawing will be made every week from Memorial Day to Labor Day.  Island visitors, guests and friends are welcome to participate!
Register to win a Big Beach Towel
With your photo entry, please be sure to include your mailing address and will send you a free HHI Bumper Sticker.  Just find one of our adopted Sea Turtle nests(or find them all), take a photo of the nest with your phone(you and your crew optional), email us the photo to info@hhprandr.com or text it to (843)338-4854 and we will send you your bumper sticker and register you for the beach towel drawing!
A Treasure Hunt for our Guests and Friends:
Sea Pines Turtle Nest:  Our first nest is #21 and is in Sea Pines was laid May 22 and is located at marker 28 on the Sea Pines Beach.  The turtle patrol marks the nest with 3 white poles and bright orange tape.  The front two poles each have the nest number on it.
Palmetto Dunes Turtle Nest – Our second nest is # 50.  It was laid this May 27th, and is located just north of beach marker 93A, which is near Singleton Beach and Palmetto Dunes.
Forest Beach Turtle Nest – Coming Soon!
Folly Field-Singleton Nest – Coming Soon!
Visit our Hilton Head Nest, but please do not disturb them!
You can visit and look at our nest on the beach.  Please let me know if you have any trouble finding it.  If you visit one of our nest, remember not to touch anything – but you are welcome to look and take daytime pictures!  If you would like to adopt a new nest, please contact Andrea Siebold below!  Thank you
Andrea B. Siebold, Sea Turtle Nest Adoption Coordinator
andreabsiebold@gmail.com  – (843)415-2211
---
---