7/22/17
Hi, all,
* An injured Kemp's Ridley sea turtle was discovered during the morning patrol this week.  He was taken by our Project Manager, Amber, to the sea turtle hospital at the aquarium in Charleston where it will be treated and released when he recovers.   Kemp's Ridley's are an extremely rare sea turtle – and are critically endangered.  This one had been hit by a boat propeller but we have great hopes for a full recovery for him! Attached is the video of his rescue.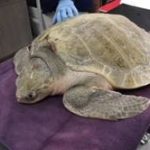 * This is the busiest time of the season for our hardworking turtle team:  there are still new nests appearing every day, (here is Nest # 301 laid today),

many of those need to be relocated (3 just today), false crawls need to be explored (3 of those today as well), green ribbons are being put on all nests of 45+ days of incubation, those nests need to be checked for signs of hatching (31 hatched so far), and then inventories need to be done three days after hatching.  This sometimes makes for a LONG morning patrol!  Hooray for the team!!
* The tracks left by a sea turtle in a false crawl can be a little bizarre:  This mother turtle climbed way over the dune, and the wrack, and all the way up to the renourished beach, did a beautiful Figure Eight in the sand – and left without laying any eggs.  Poor tired and confused mother!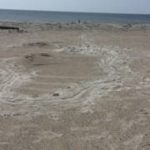 I will try to get hatching results to you as soon as they happen – stay tuned for more news!
Andrea
Andrea B. Siebold
Sea Turtle Nest Adoption Coordinator
Hilton Head Island Sea Turtle Protection Project
---
May 31, 2017
Dear Sea Turtle Friends,
WOW!  Exciting times on the beach near North Forest Beach and Shipyard yesterday morning:  a HUGE (400 pound) mother loggerhead sea turtle was found deep in the dunes.  She had become disoriented (probably by lights) after nesting and wandered through the dunes for more than a mile.  Our turtle patrol came to the rescue –they followed her tracks to locate her, gathered some volunteers, and helped that poor exhausted mother back to the ocean.  She is a cold blooded creature and hours in the daytime sun would not have been good news for her!  Here is the Island Packet article:  They have some great pictures included! http://www.islandpacket.com/news/local/news-columns-blogs/untamed-lowcountry/article153386539.html
A happy ending but a good opportunity to remind us to keep our beachfront lights off during sea turtle nesting season…..
In the meantime, we are up to 73 nests as of this morning – about the same pace as the last two years.  The season is off to a great start!
Stay tuned –
Andrea
Adrea B. Siebold
Sea Turtle Nest Adoption Coordinator
843-415-2211
---
May 5, 2017
Dear Sea Turtle Nest Adopters,
Whoever guessed May 4th for the first Hilton Head Island sea turtle nest would have been correct – today was the day of our first AND second nests of the season!
In the early hours of this morning,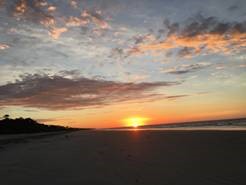 a mother loggerhead sea turtle like this one dragged her huge body ashore in Sea Pines Plantation, spent a long time digging a 3 foot deep hole, and laid her 133 eggs into it, then tiredly made her way back to the ocean.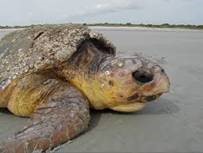 Little did she know that she had chosen a spot on the beach that will be having an emergency re-nourishment this summer…..but not to worry!  Our trained and experienced turtle patrol very gently removed all of her eggs and re-buried them in a safe spot further up the beach.  This relocation of nests is very safe when done by experts – in fact our relocated nests last year had a higher success rate than non-relocated nests.  (Even sea turtles need some help sometimes!)
Here are Carrell and Pat carefully moving the eggs from Nest # 1: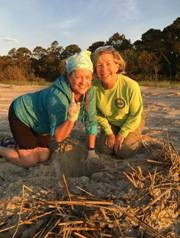 The turtle team marked the nest to alert everyone to the endangered species nest there and continued down the beach, searching for more tracks…..and found a set of tracks in Port Royal Plantation near the Westin – Nest # 2.  We are off to a great start!!!
Many more details about the process as we go along – thank you so much for your support of the Hilton Head Sea Turtle Protection Project!
Andrea
Andrea B. Siebold
Sea Turtle Nest Adoption Coordinator
Hilton Head Island Sea Turtle Protection Project
843-415-2211
---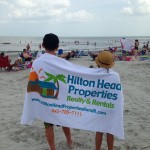 We have a fun event for your summer visit to Hilton Head Island.  We have adopted four turtle nest, one in Sea Pines, one in Palmetto Dunes, one in Forest Beach and one in Folly Field.  We will send you the Turtle Nest Numbers once the mom's make their nest.
Find one of our nest, take a photo in front (without disturbing it) and send us the photo.  Email or text.  We will enter you in a monthly drawing for 2 big beach towels.   If you would like to adopt your own nest, click here.  See below for the 2017 update on the Sea Turtles.
April 17, 2017
Dear Sea Turtle Friends,
Welcome to the Hilton Head Island Sea Turtle Nest Adoption Program.  Although some of you are far away (on other continents!) and some live right here on our island, and some have adopted many times before and some are first timers, we are so grateful to each of you for your support and interest in helping to save the endangered gentle giant sea turtles that nest on our beach every year.  We are busy getting prepared for an exciting season ahead and can't wait to share it with you!
The Sea Turtle Patrol Team is ready: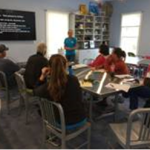 The Sea Turtle Patrol Equipment is ready: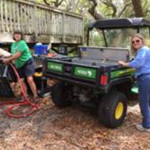 Here are Jayme and Mary cleaning up the "Green Machine"…. – all ready for marking sea turtle nests.
The Beach is ready: Just human and shore bird tracks are visible in the sand as the sun comes up – no sea turtle tracks yet!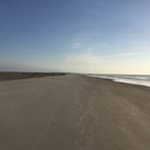 So, all is set – but when will the first mother sea turtle arrive???  Mother loggerhead sea turtles generally begin nesting on the beaches of Hilton Head Island in mid May.  But in case they arrive a little early, our turtle patrol will begin on May 1st.  Every morning, rain or shine, starting at 5 am, our stalwart team will scout the entire 13+ miles of beach looking for sea turtle tracks or stranded sea turtles.  Last year, the first nest was laid on May 10th; the year before, it was May 5th.  In 2014, they arrived on May 20th. Whenever they arrive, we are ready!
We'll let you know as soon as the first nest appears – stay tuned!
Andrea
Andrea B. Siebold
Coastal Discovery Museum
Sea Turtle Protection Project
Sea Turtle Nest Adoption Coordinator
843-415-2211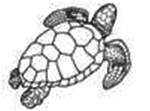 Comments
comments
Categories: Vacation and Long Term Rentals, Vacation Getaways
---
---