May 5, 2017
Dear Sea Turtle Nest Adopters,
Whoever guessed May 4th for the first Hilton Head Island sea turtle nest would have been correct – today was the day of our first AND second nests of the season!
In the early hours of this morning,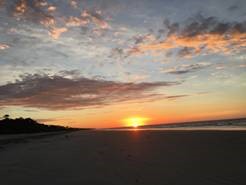 a mother loggerhead sea turtle like this one dragged her huge body ashore in Sea Pines Plantation, spent a long time digging a 3 foot deep hole, and laid her 133 eggs into it, then tiredly made her way back to the ocean.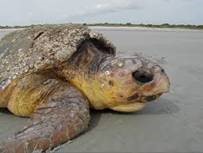 Little did she know that she had chosen a spot on the beach that will be having an emergency re-nourishment this summer…..but not to worry!  Our trained and experienced turtle patrol very gently removed all of her eggs and re-buried them in a safe spot further up the beach.  This relocation of nests is very safe when done by experts – in fact our relocated nests last year had a higher success rate than non-relocated nests.  (Even sea turtles need some help sometimes!)
Here are Carrell and Pat carefully moving the eggs from Nest # 1: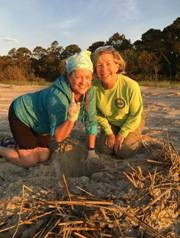 The turtle team marked the nest to alert everyone to the endangered species nest there and continued down the beach, searching for more tracks…..and found a set of tracks in Port Royal Plantation near the Westin – Nest # 2.  We are off to a great start!!!
Many more details about the process as we go along – thank you so much for your support of the Hilton Head Sea Turtle Protection Project!
Andrea
Andrea B. Siebold
Sea Turtle Nest Adoption Coordinator
Hilton Head Island Sea Turtle Protection Project
843-415-2211
---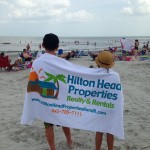 We have a fun event for your summer visit to Hilton Head Island.  We have adopted four turtle nest, one in Sea Pines, one in Palmetto Dunes, one in Forest Beach and one in Folly Field.  We will send you the Turtle Nest Numbers once the mom's make their nest.
Find one of our nest, take a photo in front (without disturbing it) and send us the photo.  Email or text.  We will enter you in a monthly drawing for 2 big beach towels.   If you would like to adopt your own nest, click here.  See below for the 2017 update on the Sea Turtles.
---
---